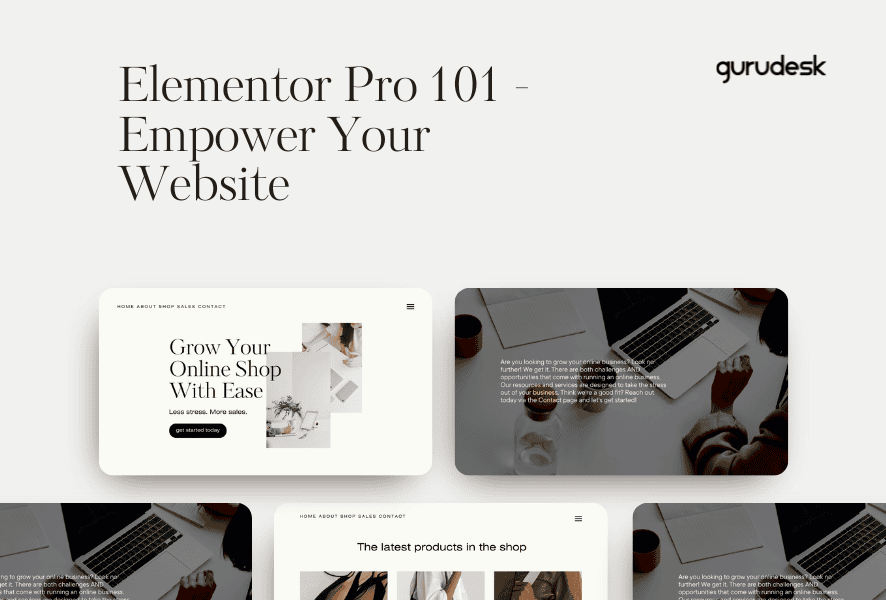 Being one of the top Content Management Systems, WordPress is preferred for a number of reasons some of which are the ease of customization, mobile readiness, powerful media management, security features, Search Engine Optimization or SEO Capabilities and its overall well-designed backend. When delving into a builder to start constructing the foundation of your site, Elementor Pro shows up as one of the top in the market.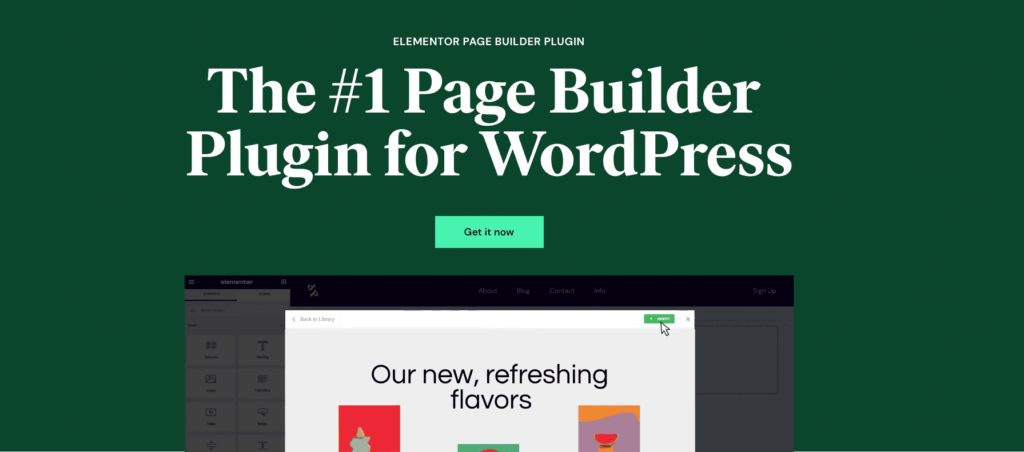 Elementor Pro
If you live under a rock or still find it hard to navigate between tech and developer terminologies, you have nothing to worry about, we'll break it down for you. Elementor page builder is a website builder plugin for WordPress. Elementor Pro is the premium version which offers additional features and functionality that assist website owners and designers create more advanced designs, and a vast access to widgets and templates.
Lucky for you, we don't expect you to pay for Elementor Pro we offer it for FREE, since GuruDesk is all about helping website owners excel in their business. So what's the catch?
WordPress and Elementor Pro
At its core, WordPress is a user-friendly CMS that assists individuals in building websites. As an open-source, WordPress is free to use, which has cultivated a vast amount of individuals in starting their businesses online. With a large community, members are free to create themes and plugins to assist others in building their website and extend their WordPress capabilities.

To know further about WordPress and WordPress Hosting , we'd like to redirect you to our blog, "The Ultimate Guide to WordPress Hosting". Elementor is one of the famous plugins that became popular for its powerful building and editing capabilities.
WooCommerce and Elementor Pro
If you're hoping to establish your store online, then we nudge you to check out WooCommerce, the most popular e-commerce site powering over 4 million stores online. When used together with Elementor Pro, WooCommerce provides powerful e-commerce solutions that assists and allows users to create custom-designed stores, online, with ease. If you're unaware of how to choose a provider for WooCommerce, we recommend you read our blog, "WooCommerce Hosting 101" for an overall insightful explanation.

Elementor Pro smoothly integrates with WooCommerce meaning that individuals can design their store using the Elementor interface which in return will reflect on the front-end of the website. As a result, users will have created beautiful, exceptional and functional stores without the need of any tech-know-how.
Limitations of Elementor Page Builder
Regardless of its popular and powerful reputation, there are some potential downsides of free Elementor that prevent you from fully exceeding when building your site.
Limited Design Options:
With a decent range of design options, users may want more advanced design features that are only available on Elementor Pro.
No WooCommerce Integration:
If you're hoping to start an online store with an Ecommerce site, WooCommerce for example, you'll need to upgrade to Elementor Pro, since the free version does not offer integration to WooCommerce.
Limited Customer Support:
Elementor does offer customer support, however, the level of support remains to be subpar rather than as comprehensive as what is available for Pro users.
Slower Load Times:
Through the use of Elementor, extra codes may appear on your site due to the use of many widgets and features which hence, reduce load times.
Elementor Pro Benefits
While we want to offer you the chance of using it to present to you the many benefits Elementor Pro offers, here are some of the top advantages you gain when choosing to invest in the Plugin.

More Advanced Design Options: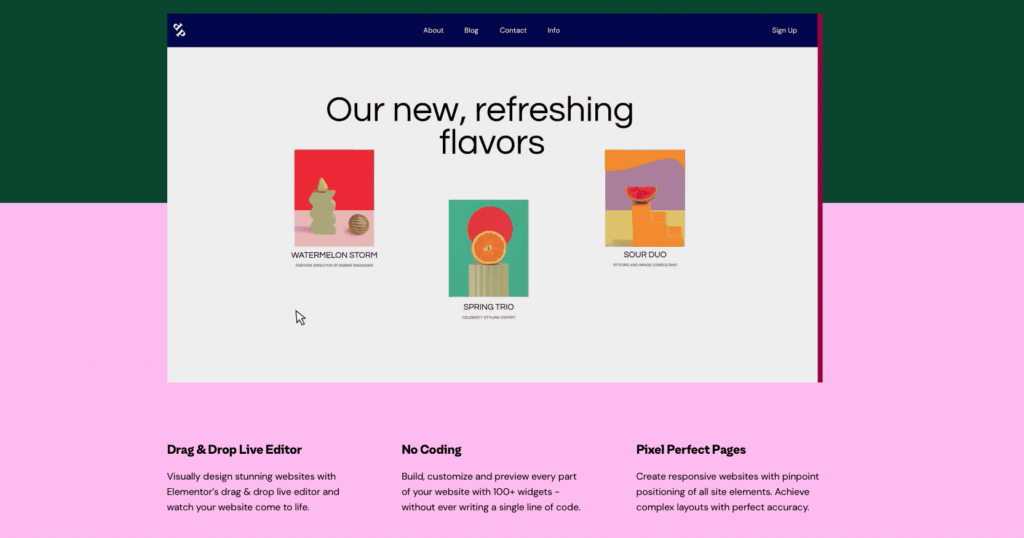 Being offered a wider range of design options and templates, Elementor Pro users have the advantage of continuously expanding and designing their sites fitting to their brand identity. This allows for a more sophisticated and unique website design, having users stand out!
WooCommerce Integration:
To sell or not to sell, either ways Elementor Pro integrates with WooCommerce seamlessly making it easier to offer your customers whatever their hearts desire.
Access to Premium Widgets:
Elementor Pro offers a wider range of widgets that add advanced functionality, which are not available on the free version. Some of the most popular being, forms, slides, testimonials, countdown timer, pricing tables, social media and MORE!
Enhanced Customer Support:
Dedicated, 24/7 support channels that offer faster responses at your customers disposal.
Faster Load Times:
Optimizing your website's code for faster load times promises that your customers are able to enjoy browsing your site, resulting in a better, more positive, user experience.
Responsive Design
Designed to be mobile-friendly, Elementor Pro offers a mass of features to best optimize your website for mobile devices. A key feature that Elementor Pro grants is its ability to fit the screen of any device. In addition, Elementor Pro facilitates mobile-specific widgets which allows users to create and customize more visually appealing designs for websites on mobile devices.
Elementor Pro Features
Being a powerful website builder, Elementor Pro plugin provides users with a range of powerful features and functionality that are worth the investment. With the ability to create custom-designed, functional, user-friendly websites with ease, Elementor Pro is rated 4.8 stars out of 5 based on over 6,000 reviews online.
Theme builder and WooCommerce builder features offer users the unique experience of creating and simultaneously designing their website and online store, according to individual needs, without the use of a tech guy – no coding required.
Landing Page Builder also obtained through Elementor Pro enables users to create custom-designs, with high-converting landing pages for websites online. Customers are able to include a variety of widgets and features designed specifically for the landing page.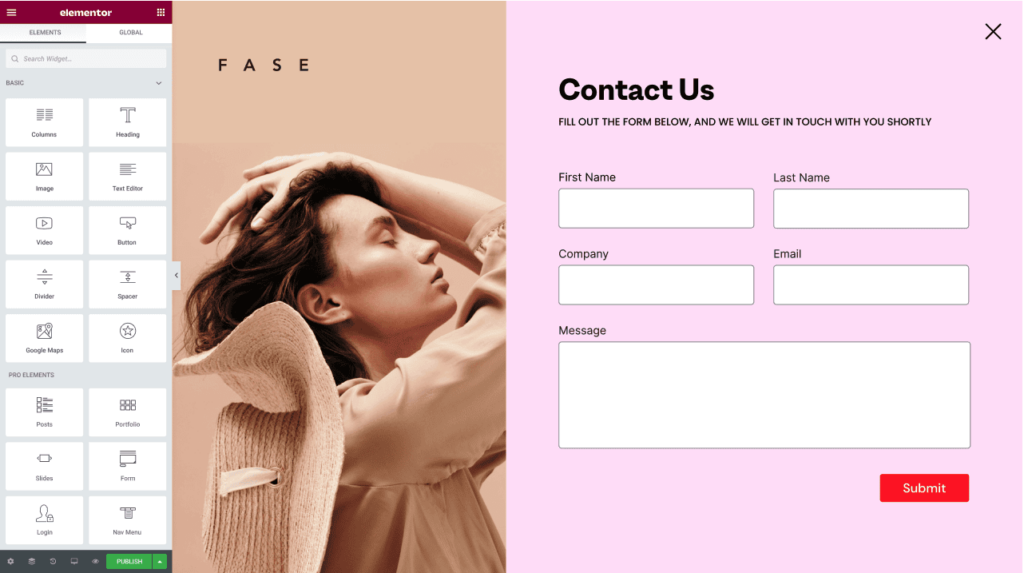 With a drag drop editor, users are able to integrate form builder, countdown timers, and pricing tables as well as, customize the layout, custom icons or custom fonts, design, and content to match brand and marketing goals.
The Global Widget saves time by creating a change on an element and have it reflected across several pages on the site. The Form builder and Popup builder are beneficial in capturing valuable and insightful information from potential customers, visitors and increasing conversions which simplifies the process that much further.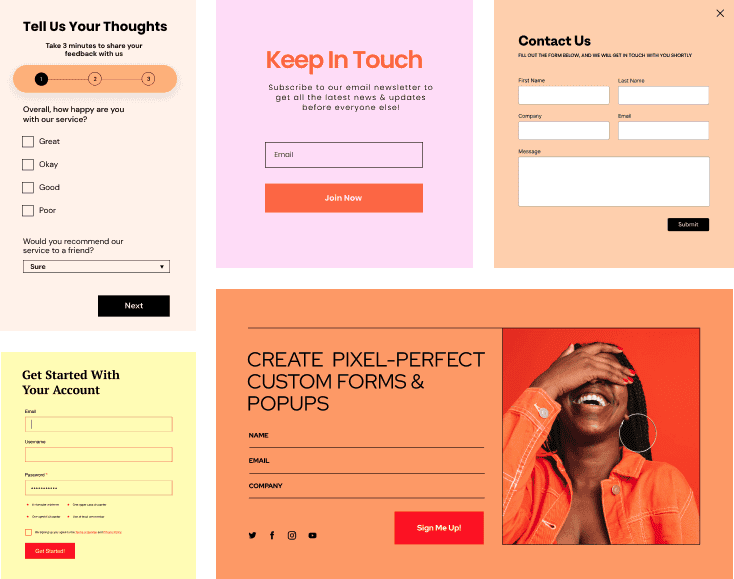 Beneficial for offering and creating a personalized experience for visitors, the Dynamic Content features grants flexible, ease-of-use, and advanced features of Elementor Pro. This overall allows Elementor Pro users a hassle free, professional-looking website.
GuruDesk, Hosting and Elementor Pro
GuruDesk is your all-in-one platform providing a wide range of web services, including web development, design, and infrastructure. With a goal to simplify, GuruDesk builds and manages business' online presence, with complete control from a single-point access.
Obtaining a hosting plan offers you a digital home for your website. This is where we come in to offer you the catch. By purchasing any of our pro or ultimate packages for WordPress or WooCommerce, you are able to get Elementor Pro for FREE! We remove the hassle of navigating your website with unlimited web creations, premium support, as well as assist in WordPress Installation, or WooCommerce.
Was this article helpful?
Thank you for your feedback :)
---
GuruDesk
Join the GuruDesk community and be among the first ones to discover the hottest trends in web services! We are a team of web experts and we love sharing our knowledge and experience with our readers! We share tips and tricks on a wide range of topics, including web development, cloud services, and hosting. Whether you are a seasoned pro or just starting out, we promise you will find valuable information here. So go ahead, hit that "Subscribe" button and let the fun begin!