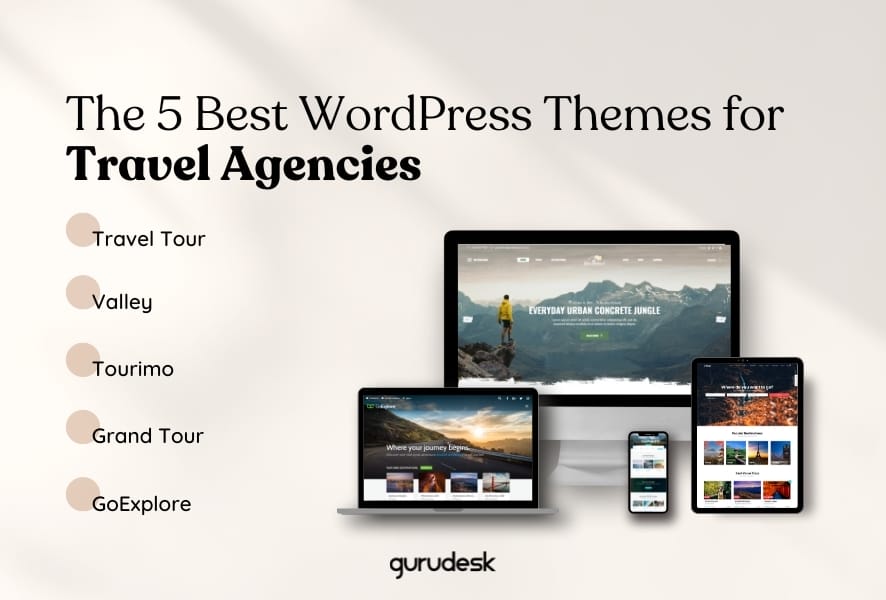 Best WordPress Themes for Travel Agencies – Travel agencies nowadays offer the option of booking directly online. Platforms similar to TripAdvisor and Skyscanner have caused noise, enticing competition in all sites. How can your website stand out? We're offering you 5 of the best WordPress Themes and plugins for Travel Agencies that assist in enhancing your user's experience and overall customer purchasing journey!
Travel Agencies
Tour and travel agencies are able to specialize in multiple different travel categories at once and offer to clients regardless of what their needs are. Here's where you come in! We're all about giving you the seeds to plant and grow your website to its full capabilities. Use your website to present to all travelers real and substantial information and faster than you know it, you'd have gained trusted customers using your site in no time!
Travel Agency WordPress Themes
First and foremost we want to make something clear, we are here to offer both free and paid versions to assist each and every single one of you. We don't ever want to shun out everyone, since we understand the hassle of initiating a website, as well as rebranding. However, as with everything, it is important to understand the kind of hosting you're looking for. We promote GuruDesk, since it's an all-in-one service provider. If you would like to know more, we recommend you check out our blog titled, "Web Hosting for Internet Virgins".
Best WordPress Themes for Travel Agencies – Theme Features and Plugins
As your trustee sidekicks, we are happy to simplify terms and terminologies to allow you full-access into what needs to be understood. So what are theme features and plugins? Themes help you design and modify your website's appearance, while plugins bring your site more functionality.
Builder Plugin
A type of WordPress plugin, builder plugins allows for the creation and customization for page layouts and designs, without the need for coding. Typically associated with a library of predesigned templates, tools and functionality, builder plugin is used for individual pages, however, has the capability of being used to build entire websites.
Page Builder Plugin
Page builders offer a drag-and-drop interface where individuals have the free range of adding different elements and content blocks to their pages and arrange or rearrange in any order preferred.
Custom Widgets
A great way to extend functionality on WordPress is through the use of custom widgets. Created by the developers of WordPress, custom widgets allow users to add additional functionality and features to the website's sidebar. Being small, self-contained, they display various types of content or assist in performing specific tasks.
Think of it this way, if you want to be able to include Google Maps, you will have to use a plugin such as Google Maps Widget, which includes several customization options for the map's appearance and behavior. And there you go, Google maps integration has never been simpler!
Best WordPress Themes for Travel Agencies – Most Popular WordPress Plugins
There are thousands upon thousands of WordPress Plugins available, all in the hopes of assisting users. Covering a range of functionality and features, these are the most popular plugins available on WordPress for Travel Agencies:
WordPress Travel Engine Plugin
Are you a travel agency or tour operator? The WordPress Travel Engine Plugin is designed specifically for your needs! When you add this plugin onto your site, you allow users to create and manage custom travel itineraries, pricing and availability and includes features such as payment integration, customizable email notifications and front-end booking form for customers hoping to use your website. You've just simplified both, your job and the customers'!
Travel Booking WordPress Plugin
Being a tour operator and/or a tour agency is stressful. Offering a range of features, Travel Booking Plugin, includes customizable booking forms, payment integration and the ability to manage multiple tour packages, which includes built-in currency conversion and translation capabilities to make it easier for customers to use by breaking down financial berries, as well as language!
Tour Master Plugin
As a travel agency, Tour Master offers you the chance at customizing tour and travel itineraries. With features like pricing options, booking management, and customizable tour details to simplify the process, Tour Master includes support for video and photo galleries which allow your customers a chance at looking up the tours they're signing up for. Another feature is the capability of integrating payment options.
HBook
Including support for multiple languages and parent gateways, HBook offers a range of features for booking and managing vacation rentals, including availability calendars, customizable pricing, and automatic email notifications.
Elementor Page Builder Plugin
Drag-and-drop page builder, Elementor allows you to easily create custom page layouts and design your WordPress site.
Blog Post Layouts
Your blog post layout often depends on the website's design and type. An easy to read and visually appealing to viewers and customers is always the one preferred.
Best WordPress Themes for Travel Agencies
A collection of files that determine the layout and design of your overall WordPress site. Themes offer individuals the chance at creating different looks and feels for WordPress users, as well as customers. When choosing WordPress Themes, you are offered a variety to install, whether it be a free WordPress theme or paid. Keep in mind that WordPress.com somehow restricts functionality on a free plan, and we would nudge you to read our blog post "How WordPress.com is Holding You Back" to know why you should hire GuruDesk.
Travel Tour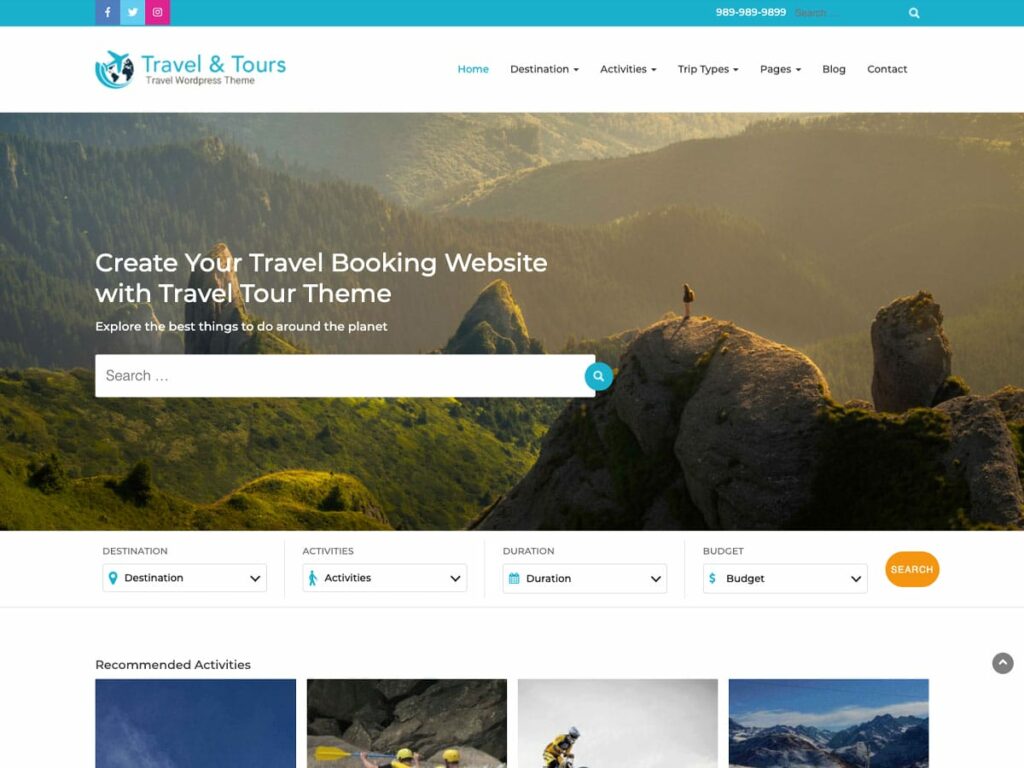 A remarkable WordPress theme offered to those who operate large group tours, Travel Tour has many pre-designed demos for the fastest website launch. Did we mention it's free? The Travel Tour Theme offers a complete tour management system as well as other outstanding features that grants a universal booking form to choose tours and travel time.
Custom Packages
Group Pricing
Advanced Search Options
Auto-reminder
Fully-flexible pricing options
Valley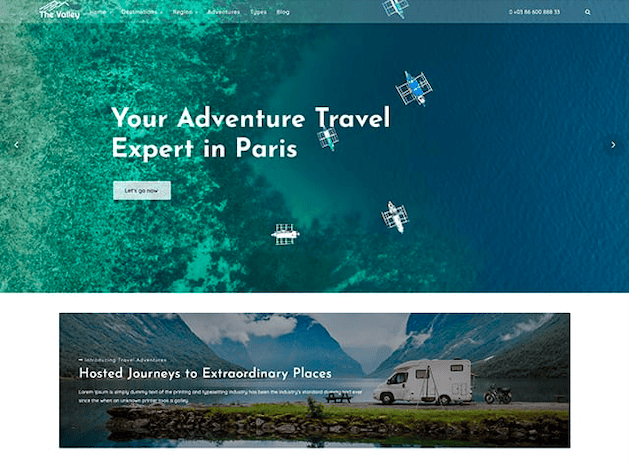 Valley focuses on the combination of passion for business within the context of a website. Possible to add information about your trip organization skills, Valley allows the display of team members and praises the tour guides who will be in charge of the holiday experience. Fully-featured theme, Valley allows the chance of writing blog posts easily, as well!
Promote services/businesses by adding relevant information about destinations
Custom Pages for mapping destinations
Adding Guide Books
Outlining tour details
Displaying adventure maps
Tourimo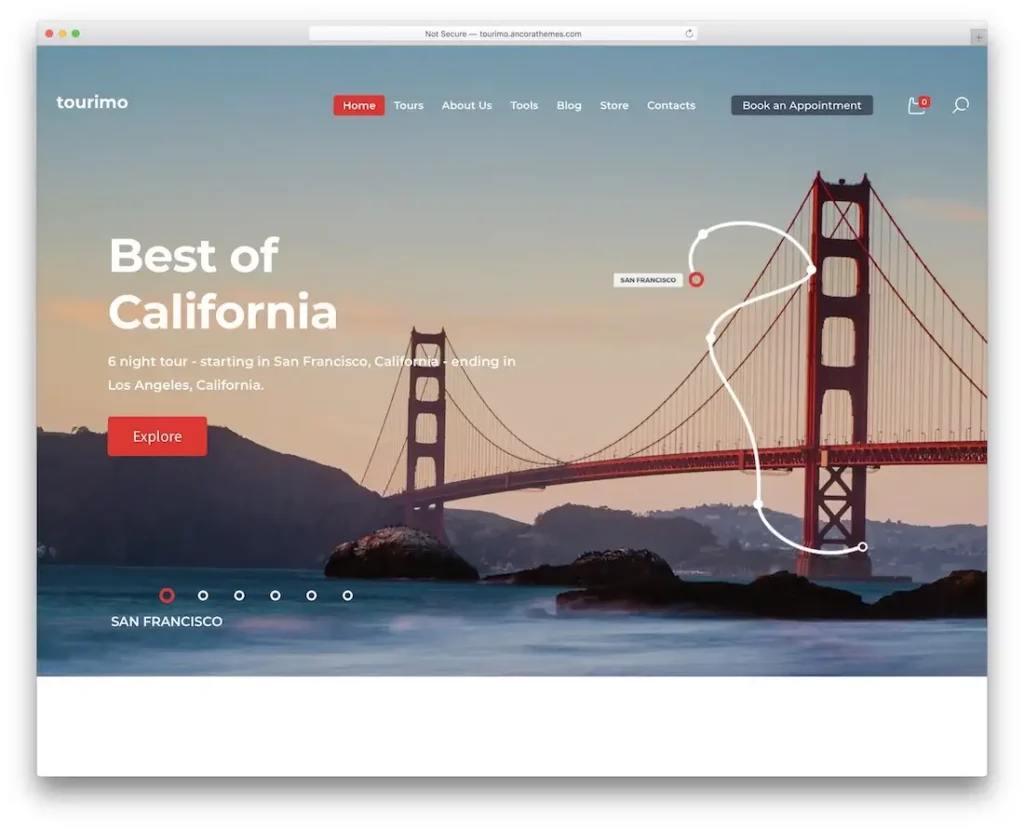 Are you looking to expand your potential to a new height? Ready to use in 5 easy samples and multiple other page layouts and features, Tourimo has quick installations and a codeless process. You are able to translate Tourimo to any language you want, make it the ever easy-to-use theme!
Social Media Integration
Elementor
Flexible Layout
Online Booking
Additional widget areas
Quick color configuration
Grand Tour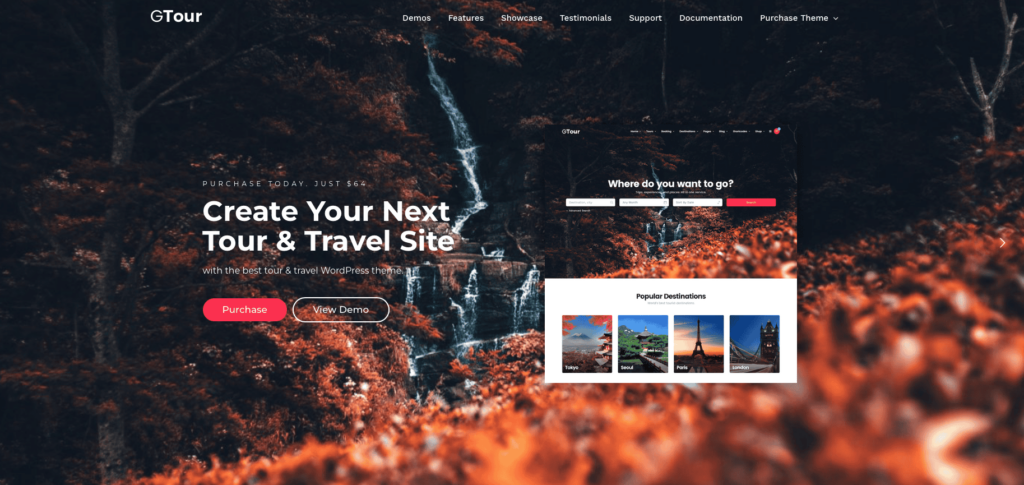 Splendid design, on-point structure which flawlessly incorporates over multiple features, Grand Tour's provides an intro Holiday Filter functionality. The positive feature is the capability of custom values that appear on the demo site in real-time.
Widgets that alert
Demo site in real-time
GoExplore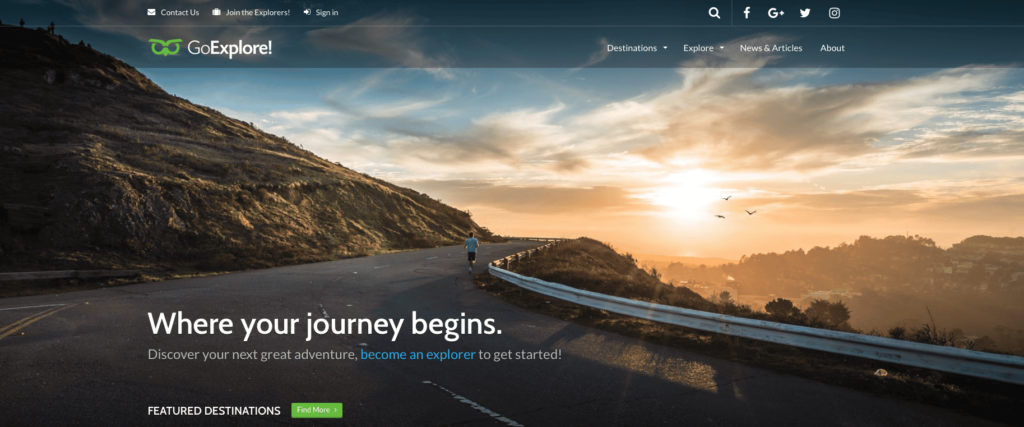 The state-of-the-are modern design, GoExplore is ideally used for professional travel booking agencies that offer quick and easy accessibility of pages, posts and navigation making the browsing experience as seamless as you will ever see. Launching a travel blog, club, agency or news website has never been easier. Combining these categories and exciting sections add to the core travel services of your site. A multipurpose WordPress theme, ready to be used to its full potential!
New Destinations
Preview in custom post type
Integration of Map
Travel WordPress Theme
Travel agency WordPress themes offer a variety of options and do not restrict them in the least. If you're planning on starting your website, ensure to include travel packages to increase the stakes that much higher! Stand out and allow your customers to add adventure tours and most importantly, don't forget the importance of a tour operator.
A travel agency theme is just as good as its content, so be sure to allow travel bloggers a good section to share their thoughts and opinions to influence readers, tourists and potential customers in using your services. There you have it, a Travel website ready and set up through an elegant theme with tour pages, booking functionality, engaging travel blog and tour destinations.
Was this article helpful?
Thank you for your feedback :)
---
GuruDesk
Join the GuruDesk community and be among the first ones to discover the hottest trends in web services! We are a team of web experts and we love sharing our knowledge and experience with our readers! We share tips and tricks on a wide range of topics, including web development, cloud services, and hosting. Whether you are a seasoned pro or just starting out, we promise you will find valuable information here. So go ahead, hit that "Subscribe" button and let the fun begin!