Google Analytics 4 (GA4): Delving deeper into the world of digital marketing and uncovering valuable insights that can transform your online presence. Understanding your customers' journeys and making data-driven decisions are the pillars of digital analytics' success, and that's where your trustee sidekicks come through.
Explaining Google Analytics, the web analytics powerhouse that not only empowers businesses but elevates their digital marketing insights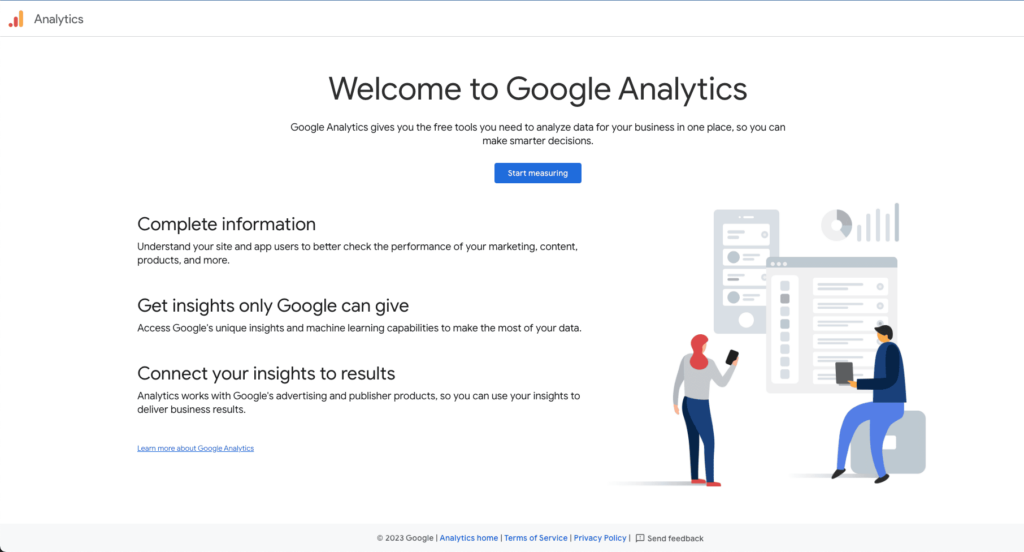 As the world of digital marketing expands, keeping a pulse on your website's performance and a deeper understanding of user behavior have become integral aspects.
Google Analytics 4 offers an in-depth understanding of your audience's demographics, interests, and engagement patterns, therefore helping you tailor your digital marketing campaigns with extreme precision.
Google Analytics 4- Key Features & Benefits
A massive aspect to consider is universal analytics. A robust tracking tool that provided valuable insights into web performance and user behavior. Nonetheless, Universal Analytics will no longer be available by October 2023.
With Universal Analytics and the integration of other Google Solutions now, Google Analytics 4 presents itself as a tool offering unparalleled insights into web performance.
By creating an analytics account through Google Solutions, businesses are able to gain access to a wealth of data that can track website traffic, measure conversions, and understand user behavior.
Another benefit of machine learning is the ability to uncover valuable insights that drive data-driven decision-making.
From monitoring website traffic sources to analyzing user engagement, Google Analytics empowers you to make informed decisions and optimize your digital presence for success.
How Google Analytics 4 Works
Google Analytics 4 functions primarily through the installation of a tracking code, which is a small amount of JavaScript. This code just watches how visitors to your blog or site engage with it in the background.
By inserting this code onto every page on your site, you grant Google Analytics 4 access to a treasure trove of information about site visitors' actions and the origins of their clicks. After the identifier is embedded, data can be gathered.
Google Analytics 4 records data such as the total number of users, total number of sessions, and total number of page views.
You can learn more about your target audience's demographics, interests, and technology preferences using the data it provides.
To help you better cater to your mobile visitors, Google Analytics 4 now provides detailed information on how they found your apps or site.
Google Analytics 4 doesn't just collect data; it also gives you access to a wide variety of study tools and resources.
On the Reports tab, you'll find a plethora of ready-made reports and dashboards that present data in a way that's both visually appealing and simple to understand.
User activity, traffic sources, and conversion rates are just some of the metrics app data that can be investigated.
You may then utilize this information to further tailor your site's architecture and content to your visitors' needs.
Google Analytics 4 & Marketing
As a marketer, you need to be on top of the newest trends and know how to put big data and artificial intelligence to work for you. Google Analytics 4 is aware of this need and provides a number of tools to help you maintain a competitive edge.
The entire potential of your website and the success of your business can be unlocked by reading the many reports, making use of the latest trends and research, and using the huge array of resources and recommendations available.
Key Metrics and Reports
'What kind of hits does Google Analytics Track?' You might ask. Allow us to give you the facts:
Overview of essential metrics and their significance:
Sessions: Each time a user visits your site, it is considered a separate session. You can learn a lot about how engaged your users are and how successful your marketing campaigns are.
The term "users" refers to the total number of unique visitors to your website over a given time frame. Metrics collected from your site's visitors can tell you how many people are using it and how rapidly it is expanding in popularity.

When a user ends a session and opens the same website again, on another device, GA4 counts that as a separate user.
Page views are a measure of how many times a page has been viewed on your website. You can use it to see which pages are the most popular and which could use some work.
Google Analytics offers valuable insights into site performance, including bounce rates. A website's "bounce rate" is the percentage of visitors who only looked at one page before leaving. There could be problems with the content or the user experience if the bounce rate is high.
Google Analytics bounce rates calculates the typical amount of time a user spends on your website during a session. You can use it to see how well the content and layout of your site are doing at drawing and keeping visitors' interest.
Conversion tracking is a method of measuring and keeping tabs on the number of visitors who take a desired action on your website. This could be anything from making a purchase to filling out a contact form or signing up for your newsletter. It's a useful tool for analyzing the results of your marketing initiatives and fine-tuning your conversion funnel.
What is goals in Google Analytics? Goals are the measurable outcomes you expect from your website, like the number of people who fill out your contact form or your conversion rate. Google Analytics 4 allows you to track and analyze your efforts to achieve specific goals.
Key Reports
A powerful insight offered by Google Analytics 4, allows users to receive an Audience Report
Audience
The Audience report offers valuable insights about your site's visitors, including demographics, interests, and behavior.
Demographics
Reveals valuable information about your visitor's age, gender, and location. This will not only help you understand the characteristics of your audience but also assist in targeting your marketing efforts more effectively.
Interests
Unveil the topics and categories that pique your visitors' interests. This, therefore, enables you to create content aligned with your campaigns, thereby creating more personalized experiences and building stronger connections.
Behavior
Showcases the way potential customers interact with your website. The number of sessions, average session duration, and bounce rate are all metrics revealed.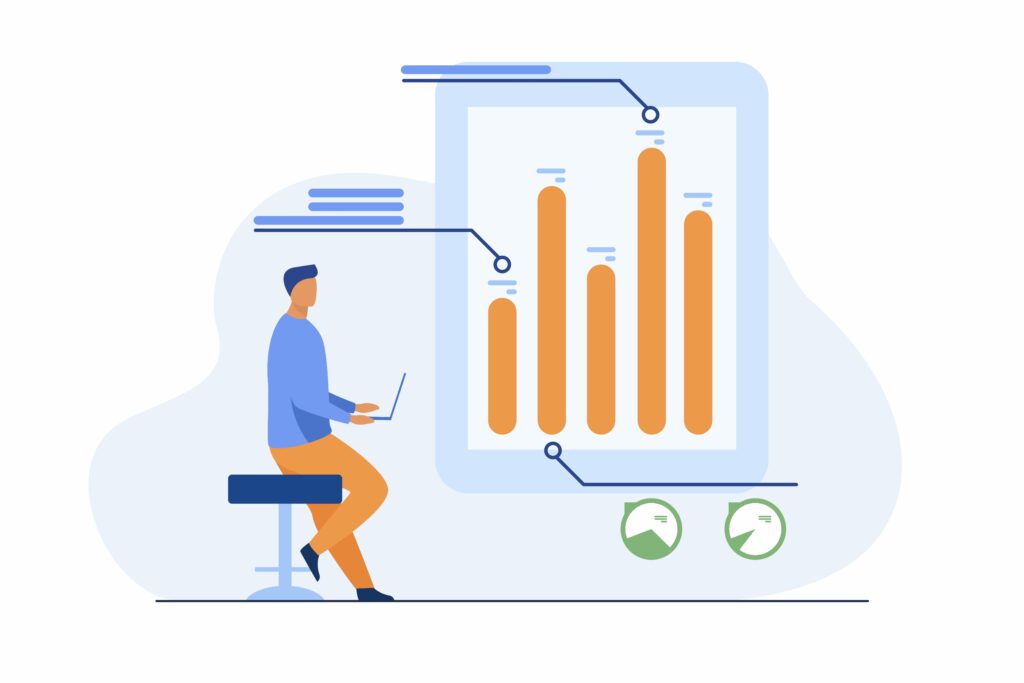 Acquisition
Providing valuable insights into the sources of your website traffic and the effectiveness of your campaigns
Traffic Sources
Regardless of whether it is organic search, paid advertisements, referees, or social media, this assists in channeling the most visitors.
What is organic searches in Google Analytics? The traffic that comes to your site through search engines without paid advertisements
Campaigns
It's a useful tool for keeping tabs on the success of your marketing initiatives and making educated choices about what to do next. You can analyze key metrics such as click-through rates, conversions, and the return on investment (ROI) for each campaign.
Armed with this information, you can fine-tune your campaigns, allocate resources wisely, and focus on the channels that yield the best results
Behavior
Allows a deep dive into the user behavior patterns on your site by tracking metrics similar to page views, average time spent on each page, and bounce rate.
Site Content
Provides a comprehensive overview of your site's pages and their performance. This will also assist you in identifying your top-performing content and leveraging this information to create more of what resonates with your customers or users.
Navigation Analysis
Grants an understanding of how users navigate through your site. Analyzing, identifying, and discovering the flow of users from one page to another.
Conversions
The ultimate goal of any website is to track and analyze them, and Google Analytics offers this powerful tool that tracks and analyzes them.
Goal Tracking
What is goals in Google Analytics? It allows you to define specific actions or objectives on your site to track. Whether it is a completed purchase, a newsletter sign-up, or a contact form submission, you are capable of setting up goals to monitor their performance and measure the effectiveness of your marketing efforts.
E-commerce analysis
Capability to analyze electronic commerce. Online retailers will find this function particularly helpful. With the help of e-commerce analysis, you can look deeply into things like sales, income, and the success of individual products.
To improve your online store's performance, you can track sales data, monitor market fluctuations, and spot emerging trends.
The e-commerce analysis data provided by Google Analytics can be used to fine-tune marketing efforts, boost conversion rates, and increase revenue.
5 Steps to Setting up Google Analytics
Step 1. Create GA Account
The best way to manage and administer Google Analytics 4 is through your account. Sign in to your regular Google account. If you don't have one, start creating!
Once logged in, head over to the "Google Analytics 4 home page" and select 'Start for Free', found in the top right-hand corner.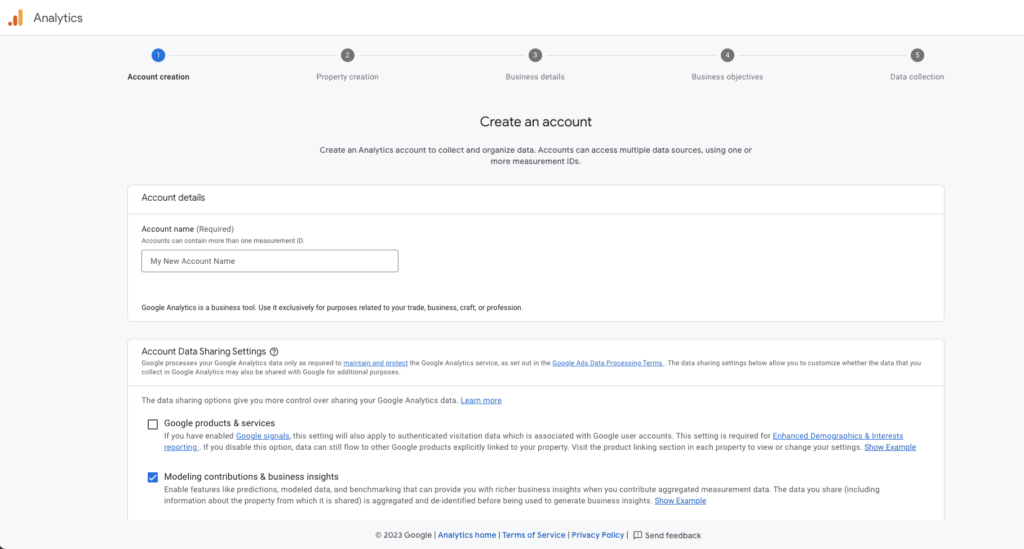 Name the Account
Start by giving an account name, but do not enter the actual domain URL here. Your account name could be something simple, such as the name of the company or business.
If you will be creating several accounts for several domains, it's beneficial to differentiate them for simplicity and uniqueness.
Enter Your Property Details
Google Analytics allows you to add properties by URL or domain. Google Analytics calls your website or mobile app a property. Your GA account can track and analyze data from multiple properties.
Start by providing property details. Depending on the asset you want to track, add a URL or domain. Enter the URL to track a website. Enter the domain name to track a domain or subdomains.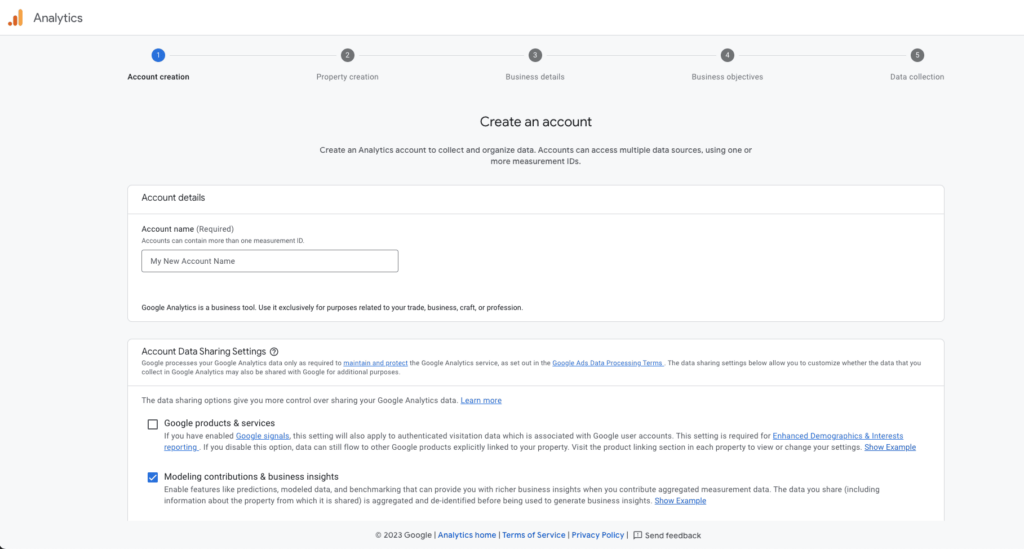 Configure your time zone and currency along with your property. Setting the correct time zone aligns data with relevant reporting time frames for accurate analysis and reporting. Selecting the right currency helps track revenue and conversion metrics.
You can build a solid Google Analytics account by entering property details and setting the time zone and currency. This will help you track and analyze your online assets, gain actionable insights further, and optimize your marketing strategies with data.
Enter Business Information
This is the straightforward part of the whole process:
Add your industry
Business size
Your intent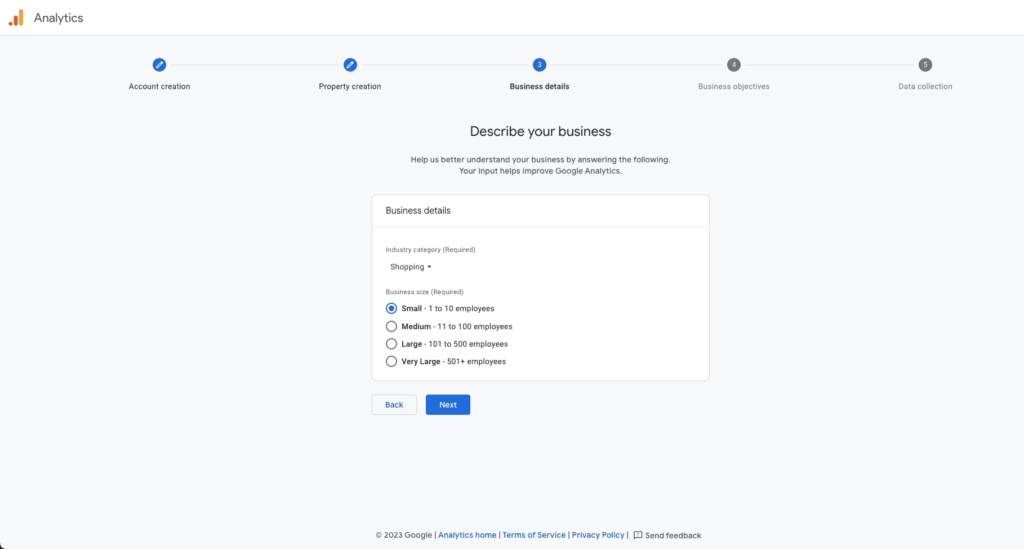 Once you're done, click the 'Create' button, after which you will be asked to read and accept GA's Analytics' terms of service and be redirected to your GA dashboard.
Step 2. Set Up Data Stream
The data stream is a gateway into GA for the data collected from your site. Before setting up, ensure that you have selected both the correct account and the correct property in the admin dropdown menu.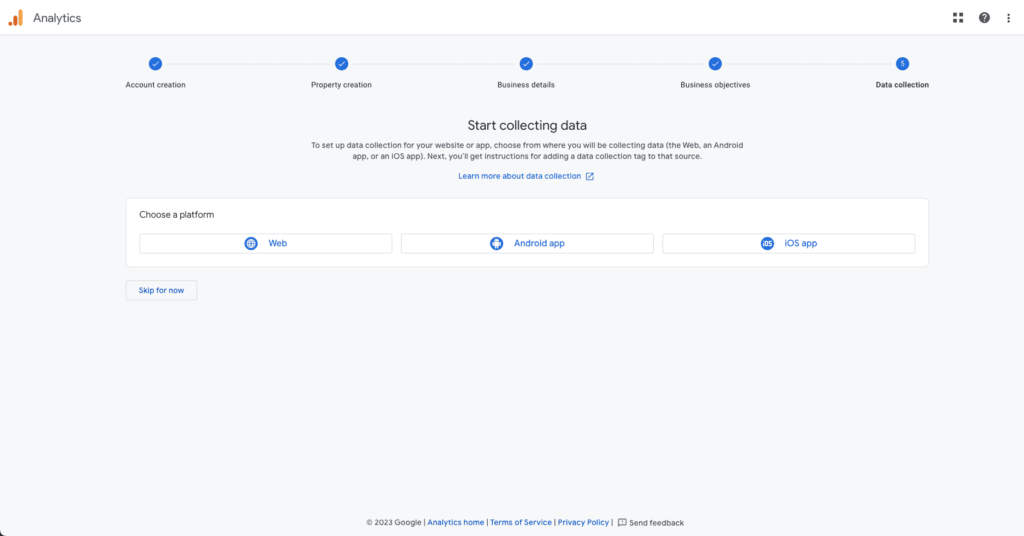 Website Details
After property selection, click on the 'Web' option. You will be asked to input your domain URL and the name of your data stream. You will be asked to select which web protocol you are using (HTTPS or HTTP).
If you are unsure which protocol you are using, be sure to check your site's valid SSL security certificate.
Enhanced Measurements
There is a standard section for the metrics presented, such as page views, scrolls, and outbound clicks. Those measurements can be turned on or off through the selection of the small 'Settings' icon in the bottom right corner.
You have the maximum capacity to control what is being measured through the 'Setup Assistant' found on your GA dashboard.
Once your stream is created, a unique measurement ID as well as a stream ID will be offered.
Step 3. Start Collecting Data
In order to start collecting the data, you need an analytics tag, which is a small snippet of code. Depending on your preference and the structure of your site, you can choose: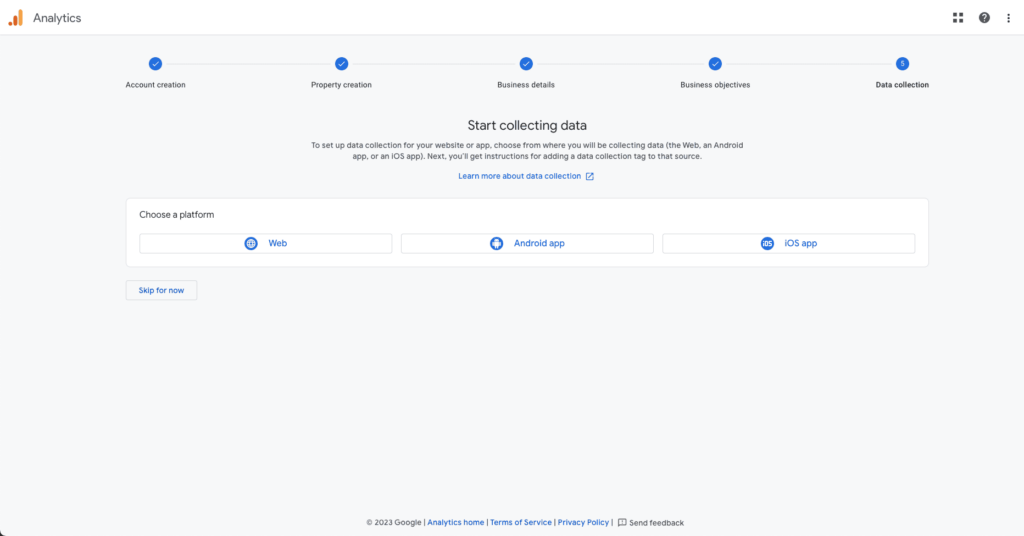 CMS-Hosted Websites
Depending on your CMS provider, some things may be different; however, if you built your site through a do-it-yourself tool such as WIX or Google Sites, then the setup process is already integrated.
Self- or Custom-Built Websites
If you choose to build your own website or hire a web development team (such as GuruDesk), then the data collection setup could be slightly more manual.
As with the process mentioned in the previous section, select your global site tag. You will need to copy and paste this tag onto every one of your site's pages.
Step 4. Configuration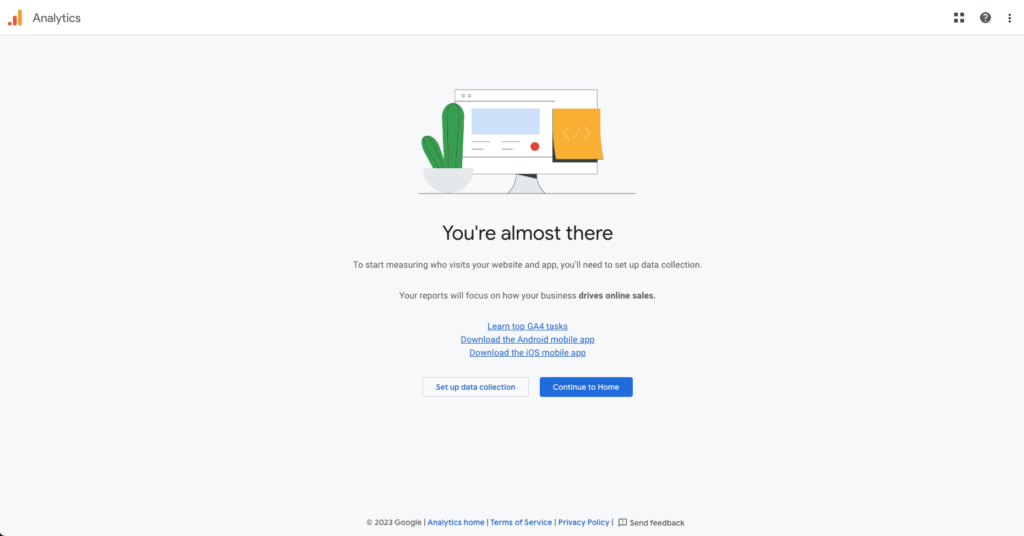 Customizing your data collection and analysis to better reflect your business goals is one of the essential benefits of GA. Flexibility can significantly enhance not only your analysis but your reporting as well.
Create Custom Events
Every time a user interacts with your site in a pre-defined way, events are triggered. Many may be automatically connected, and for others, you will have already selected or deselected them during the 'Enhanced Measurements' found in step 2.
If your desired or intended event does not exist, you can create a custom event by choosing 'Events' in the menu.
Once you choose 'Create Event', you will need to follow Google's in-depth, step-by-step instructions to ensure that all information is inputted correctly.
Custom Events
As a tool that goes beyond the average, custom events give you the chance to measure the success of your marketing efforts. The way it works is that through the definition and tracking of specific actions taken, such as button clicks, form submissions, video plays, or downloads, you will be able to gain a richer insight into user behavior as well as engagement.
Tracking custom events is a crucial step when it comes to measuring the return on ad spending (ROAS). The data allows you to not only understand how users interact but also identify patterns and assess the impact of your marketing initiatives.
Step 5. Verify Setup
After completing the setup process for your Google Analytics 4 account, we recommend you wait 15 to 30 minutes to ensure that your analytics tags are placed correctly.
It often takes between 24 and 48 hours for Google to start processing the data obtained from all reports. If you've followed the steps correctly, you will be able to see the "Users right now' card, which will refresh every 15 seconds following the new count of users.
Google Analytics 4 & Google Ads
Integrating Google Analytics 4 and Google Ads is a game-changer for getting the most out of Google Analytics 4 for your blog or website. As a blogger, you can't hope to succeed without harnessing the combined power of search engine optimization (SEO) and advertising.
Connecting Google Ads and Analytics allows you to see how well your ads are performing, so you can evaluate the results of your marketing efforts and adjust your strategy accordingly. This priceless knowledge will allow you to better allocate your advertising budget, narrow your focus, and create content that truly connects with your readers.
Explore Google's official blogs and resources for the latest tips, product updates, and industry trends.
You can boost your brand's online presence and gain insightful data to fuel your success by combining Google Ads and Google Analytics.
The behavior report details the user's actions on your website, such as the pages they visit most often, how long they spend on each page, and in what order.
This information is useful for enhancing the usability of your website and the overall user experience
Google Analytics 4
Now that you have the introduction to start reporting, tracking, and analyzing the customers that hop on your site, you will soon have the answers to the repeated behaviors, interests, and decisions they make.
Google Analytics is considered to be one of the richest, most powerful tools and reports that empower content marketers. If we were to leave you with advice, it is to pay attention to details like bounce rates, organic searches, and user behavior to point out areas that need improvement.
Last, but not least, stay informed, adapt to trends and allow the data presented to you to be your guide when crafting content that resonates with your targeted audience.
​​​​
Was this article helpful?
Thank you for your feedback :)
---
GuruDesk
Join the GuruDesk community and be among the first ones to discover the hottest trends in web services! We are a team of web experts and we love sharing our knowledge and experience with our readers! We share tips and tricks on a wide range of topics, including web development, cloud services, and hosting. Whether you are a seasoned pro or just starting out, we promise you will find valuable information here. So go ahead, hit that "Subscribe" button and let the fun begin!