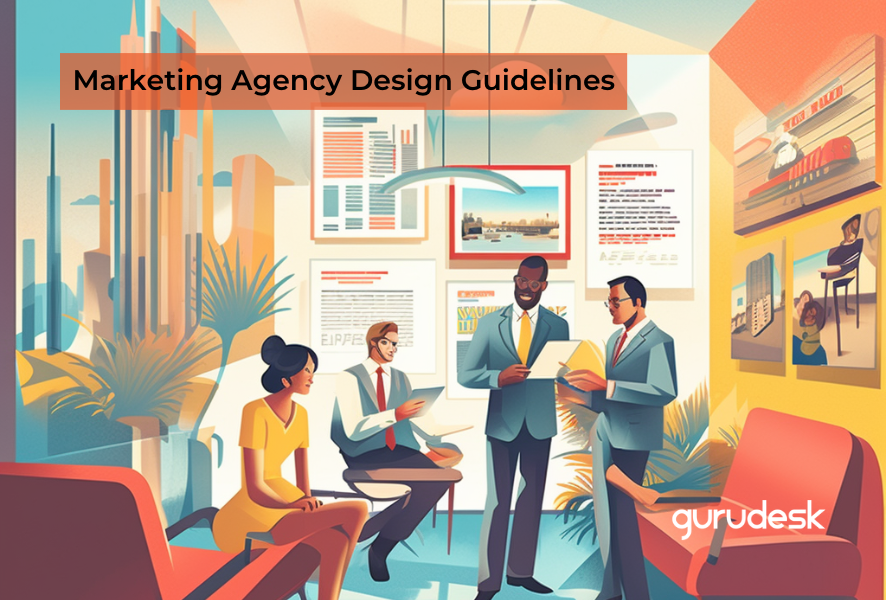 Design Guidelines – Design has always played a role in the overall fate of a business. Especially with more and more businesses coming to light, it is necessary to solidify your presence and bring on a new challenge that does not resemble anything else.
Whether it be the same products or services, the overall mission, vision and beliefs should be showcased throughout.
This blog aims at offering you design guideline tips for marketing agencies to shine through and separate you from the sea of options.
Before we delve in, let's run through the basics for any individual hoping to start their marketing agency.
Marketing
Marketing is the strategic promotion and selling of said products or services to one's target market.
It includes things like surveys, focus groups, and surveys to gauge client satisfaction. Brand awareness, interest from new customers, lasting customer connections, and income generation can all be boosted through smart marketing methods.
Marketing, whether it be search engine optimization (SEO), social media marketing (SMM), or older tactics like print advertising (PA), is essential for brand building, lead generation, and client retention.
It's an ever-evolving discipline that helps firms keep up with the demands of an ever-shifting consumer base and technological landscape.
Marketing Agency
A marketing agency is a business that offers marketing services and solutions to other companies.
Marketing, advertising, social media management, and campaign creation are just a few of the many services these firms provide.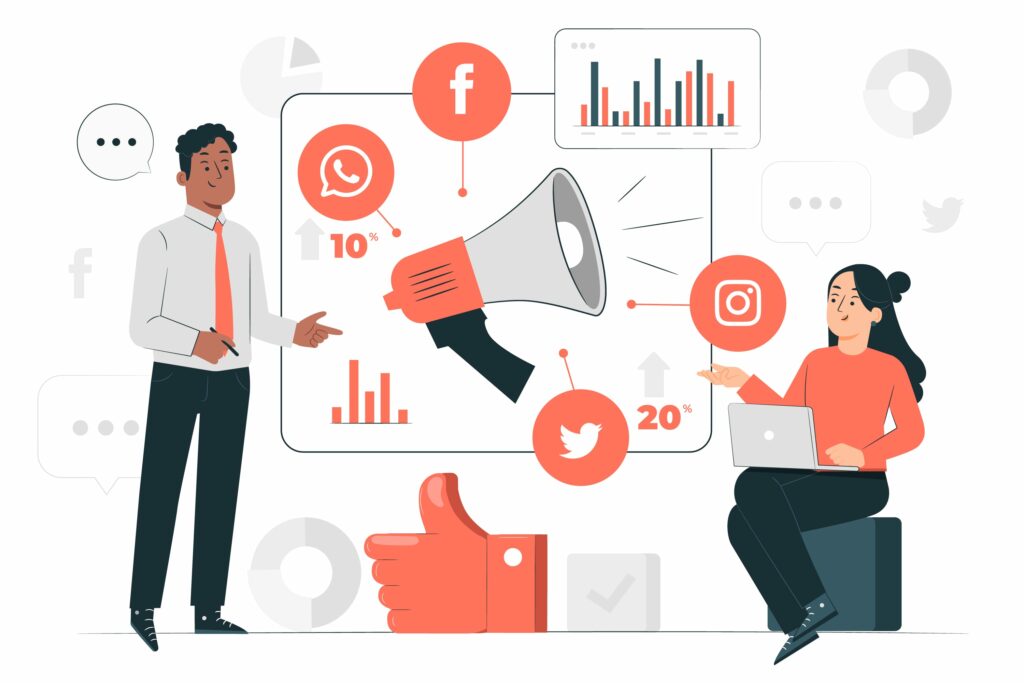 Marketing agencies aid businesses by using their understanding of the market to help them determine who they should be marketing to, how to best contact them, and how to keep their attention.
For optimal brand awareness, client acquisition, and marketing efficiency, they employ a number of channels and platforms.
By working with a marketing agency, firms are able to take advantage of the agency's specific skills, anticipate industry trends, and more effectively reach their marketing objectives.
Marketing Agency & Design Guidelines
When Marketing Agencies consider showcasing their work on a website, it is necessary that they present a web design ideal of that standing. At the end of the day, you can't promote, advertise and sell your products on a slow performing site that is in downtime more than it is in uptime.
Here are the elements you need to consider moving forward:
Responsive Design Guidelines
When discussing Marketing Agencies, the crucialness of a responsive design is uncompromisable. Individuals have become avid mobile users, which has led responsive designs to become essential for user experience, search optimization and overall digital marketing success.
Responsive design plays a vital role in SEO. Search Engines similar to Google, Yahoo, Bing and more prioritize mobile-friendly sites within search results.
A responsive design not only improves your website visibility, but also eliminates the need for similar or duplicate content all across multiple versions, avoiding SEO penalties for duplicate content.
Regarding Alt-text, keyword research, and linking, all result in a responsive design that increases SEO & ranking. If you do not know where to start and need some guidance, fear not! The Gurus at GuruDesk offer an insightful read for those who do not speak nerd – What is SEO? #1 Guide.
Intuitive Navigation – Design Guidelines
Another important element is intuitive navigation. The vital role this element plays is that users have the capability of easily and effortlessly navigating through a website, finding desired information and taking the desired action that ultimately summarizes and leads to a positive association with the brand.
Intuitive navigation improves user experience by omitting confusion and frustration, offering users the chance at locating the information they seek at the click of a button.
The plus side is an enhancement of user satisfaction, reduction of bounce rates and an increase of repeated visitors and referrals.
User experience is more than a quick – one-and-done thing. Taking the time to elevate and focus on your user experience can turn potential customers to loyal, repeated ones. Check our blog on the importance of designing for delight.
Compelling Visuals – Design Guidelines
Visuals are some of the most important factors. People are very sensual. Appealing to the senses almost always guarantees and interest. Why? Well, visuals enhance trust and credibility. Seeing real product images allows customers to know what they're getting in return.
75% of online shoppers consider product images to be influential factors since they include important details about the product and/or service.
Clear Messaging – Design Guidelines
With Clear messaging included in the web design, you are effectively communicating the value proposition, brand identity and key marketing messages to visitors.
Marketing agencies will be able to establish and set forth a strong brand identity that speaks of unique values. This translates to visitors as clear offerings, expertise and sets every marketing agency apart from the rest.
Clear messaging captures your customers attention by articulating services, solutions and specific benefits made as an offer to customers.
By guiding your customers through a clear customer journey, you are able to let your customers know what sections are relevant to their needs and the necessary call-to-action they need to take to not miss the opportunity, and therefore, convert correctly.
You need to build the customer journey that mostly aligns with your business – one that you know will lead your customers from awareness to action.
Strong Branding – Design Guidelines
The reason for the company's existence, its guiding principles, and the change it hopes to bring to the world should all be articulated in a brand purpose or mission statement that is both clear and appealing.
A distinct visual representation of the brand, including but not limited to a logo, color scheme, typeface, and brand images. All brand touchpoints should share this consistency in order to build brand recognition and integrity.
Consistency is key – this falls back on the type of content, time of posting on Social Media, tone of voice as well as color palette chosen.
The sum of a consumer's impressions of the brand as a whole, including their interactions with the company's website, its products and services, its customer service representatives, its packaging, and so on. Consistency (once again) and a dedication to providing a pleasant and memorable experience are two of the most important factors.
Clearly outlining and emphasizing the brand's distinguishing features – what sets them apart from what already exists?
Maintaining a consistent schedule of brand performance analysis, customer feedback collection, and strategy adjustments. This helps keep up with the times, adapt to the needs of the market, and stay ahead of the competition.
GuruDesk Web Design Guidelines
The goal of web design is to empower Marketing Agencies that much further.
At GuruDesk, our Guru Designers understand the importance of accessible and usable web design practices for marketing agencies.
Our team of skilled designers and developers are well-versed in different types of web design, from responsive layouts to mobile app development. We prioritize design reviews and usability testing to ensure that our solutions meet the expectations and needs of our clients.
By applying design principles, industry best practices, and considering the specific goals and themes of each project, we create visually appealing designs that are easy to navigate and understand.
We respect the unique characteristics of each marketing agency and strive to design websites that align with their brand identity and target audience.
Whether it's choosing the right components, incorporating user-friendly navigation, or making design changes based on feedback, we work closely with our clients to ensure that their websites are designed with their specific requirements in mind.
With GuruDesk, marketing agencies can expect a professional and comprehensive web design solution that delivers exceptional results.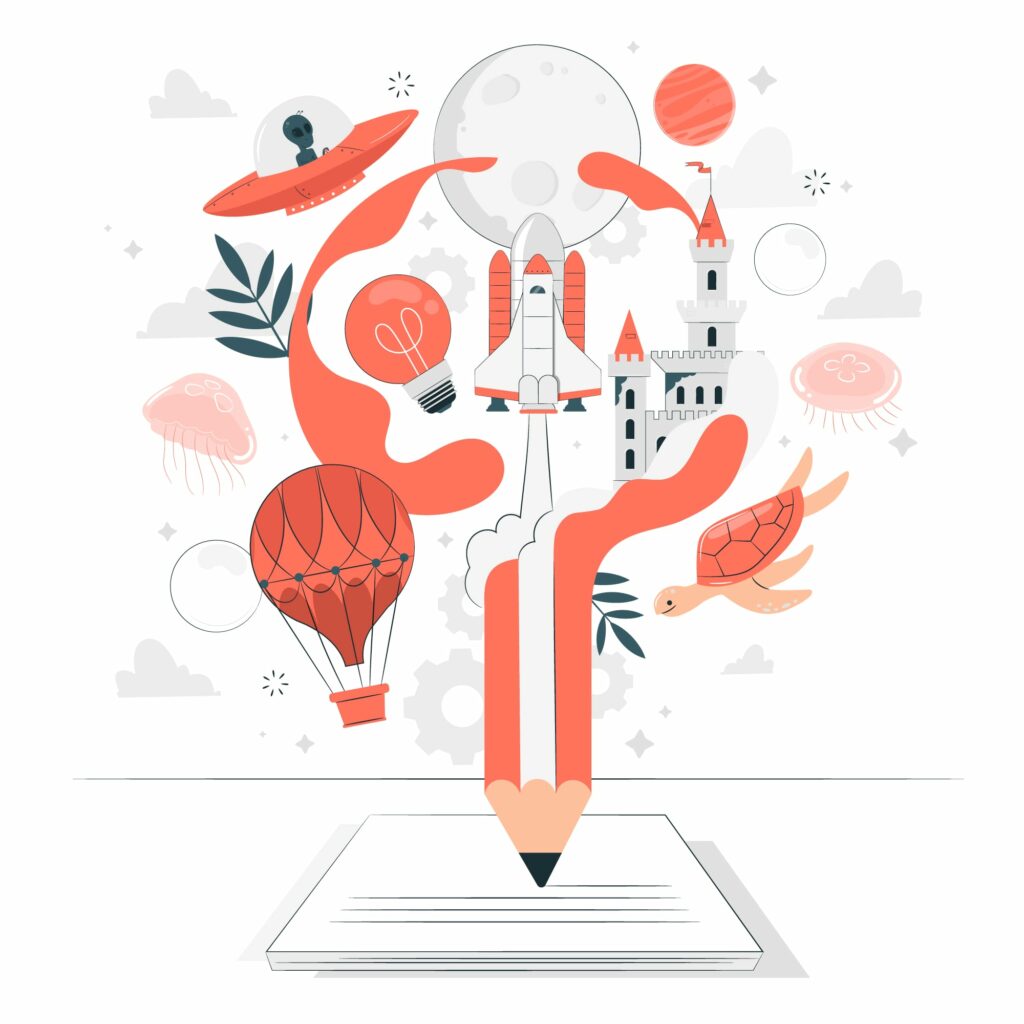 Design Guidelines for Marketing Agencies
For marketing firms to make effective and user-friendly websites and apps, adherence to design rules is essential.
Every element of the design should work together to provide a better experience for the user and further the brand's objectives.
To make sure the design is effective and can be modified as needed, it should be reviewed and assessed frequently. Advertising firms can avoid errors and produce user interfaces they can be proud of by investigating and employing established design principles.
Learning new things and keeping up with design trends and best practices are equally important whether you're using a PDF manual or an online resource.
By keeping these factors in mind and basing design decisions on individual circumstances and intended audiences, marketing companies may produce designs that are both aesthetically beautiful and useful, better conveying the message and helping them reach their goals.
Was this article helpful?
Thank you for your feedback :)
---
GuruDesk
Join the GuruDesk community and be among the first ones to discover the hottest trends in web services! We are a team of web experts and we love sharing our knowledge and experience with our readers! We share tips and tricks on a wide range of topics, including web development, cloud services, and hosting. Whether you are a seasoned pro or just starting out, we promise you will find valuable information here. So go ahead, hit that "Subscribe" button and let the fun begin!