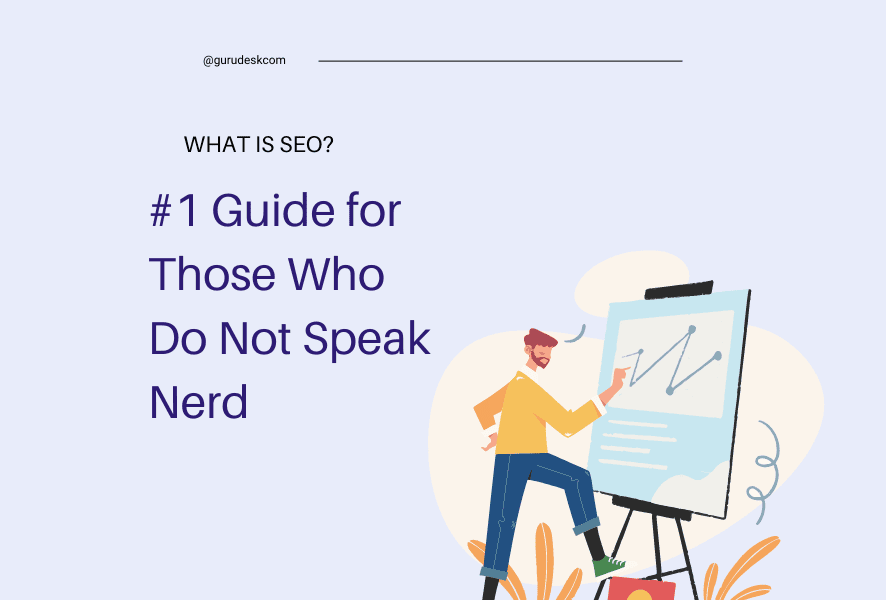 What is SEO? Did you browse the web and still not grasp the fundamental digital marketing terms? Do you feel like smashing your laptop and yelling, "I DO NOT SPEAK NERD!" Then you are at the right place. Yes, the digital world changes rapidly, and it might be hard to keep up with all these technical terms, but not with GuruDesk guiding you! Let's dive in and get you on board with what Search Engine Optimization, aka SEO, is.
What is SEO?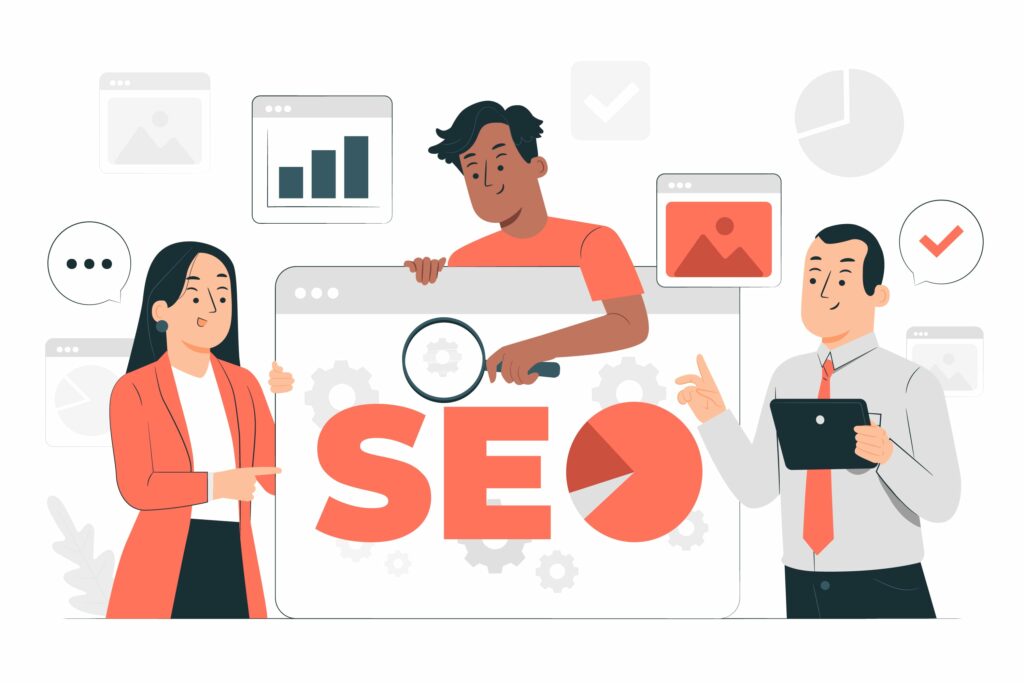 Just like the name itself suggests, SEO stands for Search Engine Optimization, is the process of improving the performance and practicality of web pages for organic rankings on search engines like Google, Yahoo, and other search engines. To appear on google search console, among the first page options, you must play by the play-maker's rules, aka Google. Website owners need to understand the fundamentals of SEO basics in order to create content that have relevant keywords to boost your websites rankings.
Keyword Research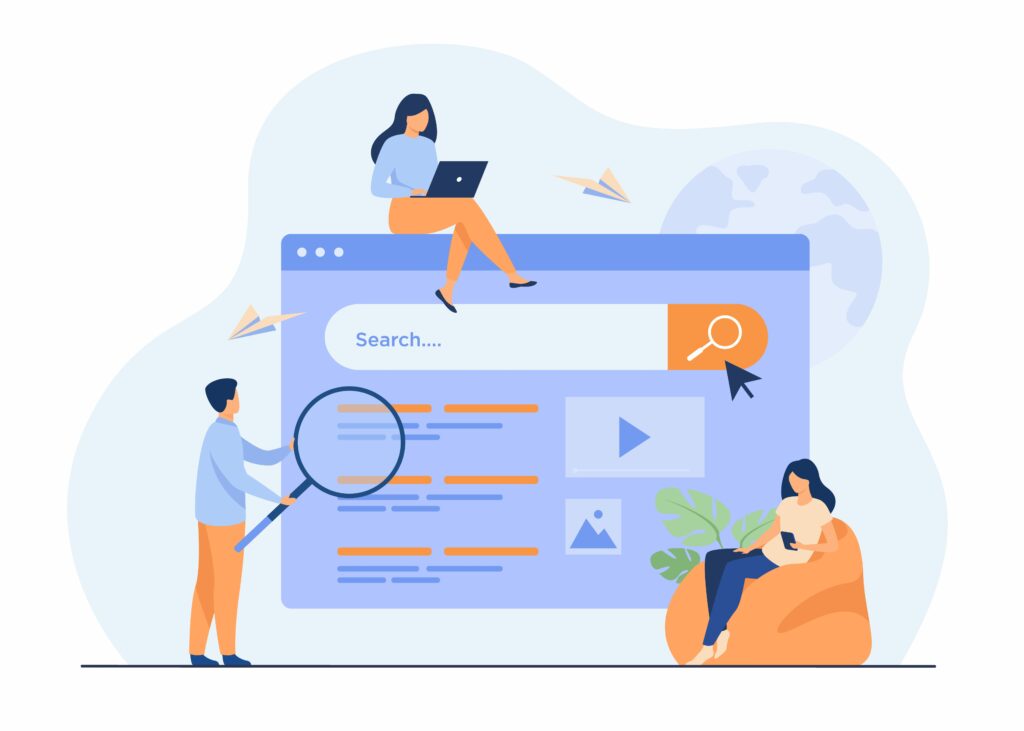 Blogs include keyword research which are crucial for SEO. Used as a marker to see which terms rank the highest, search engine optimization practices assist you in generating blog topics that peak your readers interest. As a new blogger, finding keywords for your own articles will help you create a more meaningful conversation with your audience.
Keep in mind that the more specific the phrase or word is, the more closely it'll match your audience's intent. By optimizing the content, tags, headers, images, internal linking, URL structure and other factors found on your page through the use of on-page SEO, you will be improving your site's ranking and ear organic traffic.
Once you've selected your keywords, you can use them to help you shape the structure of your content, aligning with your topic and overall intent gravitating to your readers attention. Keyword research tools such as Ubersuggest and surfer plugin assist when writing a new blog.
Why is SEO important?
To begin delving in to the sea of SEO knowledge and start creating high quality content, we should probably go back a few steps and understand the importance of SEO. Organic search delivers 53% of all website traffic. Through this statistic, we are able to understand the true importance of SEO since it drives real results for brands, businesses, as well as organizations, whether they be small or large.
Good Search engine optimization is sustainable. When a paid campaign ends, so does the traffic. This is why it is necessary to build trust through organic results. According to Semrush's research, 81% of all searchers on Google click on organic results. This means you are likely to get five times more traffic by ranking in organic search results compared to paid ads. And remember, it is completely free!
What is SEO? SEO Strategy
With trillions of searches everyday, how do you make sure you're the highest on search rankings? Developing an effective SEO strategy requires an understanding of your target audience, industry and competitors. Here are some factors to consider when developing an SEO strategy:
Define your Target Audience
Conduct Keyword Research
Develop Content
On-page Optimization
Off-page Optimization
Technical SEO
Analytics
What is the Importance of Search?
There are hundreds of thousands of searches conducted every year. The main source of organic search traffic for websites is done by searching. Searching can be done through web search engines such as Google, Social Media platforms such as Instagram, TikTok, or retailer websites like Amazon. As search is the primary source for organic traffic, is it important to have a friendly search engine on any platform where customers are able to search and find your brand or business.
What is SEO? Types of SEO
Now that we offered you the standard 'what is SEO', we'll dive into the more heavier details to decompress. You may take the time to imagine a team (any team). In order to make sure that your team wins, you need a strong offense and a defense…and most importantly your fans, which happen to be your audience (customers). Search engine optimization may be broad, however, by incorporating the three, you will be able to attract, engage and retain a loyal fan base.
Technical SEO
Technical search engine optimization, or Technical Optimization, is linked to the more technical aspects of a website: URL structure, navigation, internal links and more. Search engines stress on how quick pages load, as well as offering positive user experience. Elements such as mobile device translation, usability and more all come to play a major role in technical optimization.
On-site SEO
On-site search engine optimization, or Content Optimization, is optimizing the content on a website for users and search engines. Content optimization focuses on two audiences, people, optimizing content your audience will see, and search engines, understanding your audiences wants and needs, data guidance offered by Google.
When you are optimizing content, there are a few factors you need to make sure:
Create relevant content within your field of experience.
Perform keyword research to better know what people use to find your content.
Well-written verbal content, free of spelling and/or grammatical errors.
Relevant, up-to-date, containing facts or accurate information.
Readable and understandable content (make use of subheadings, lists, bullet points, etc…)
Include visual assets to help decompress your
Off-site SEO
Off-site search engine optimization, or off page optimization, is creating brand assets such as, people, values, visions, slogans, and more, and doing things that will ultimately amplify your brand awareness and recognition. There are multiple of ways to contribute to SEO success whether directly or indirectly. The way to indirectly contribute to SEO is by link building. Link building is by gathering a diverse number of links pointing at your website from relevant, authoritative and trusted websites.
Everything your brand does has an impact on SEO and in order to gain quality driven links, you can do it through the following:
Brand Building and brand marketing: boost recognition and reputation
Public relations: earn editorially-given links
Content marketing: creating videos, ebooks, research studies, podcasts and guest posting
Social media marketing and optimization: Claim brand handle on all relevant platforms to optimize and share content.
Listing management: claiming, verifying, and optimizing information present on any and all platforms regarding your company or website.
Ratings and reviews: Receiving, monitoring and responding to ratings and reviews.
Meta Description
Meta description is a couple of words, ranging from 150 to 200 words summarizing what your blog refers to. It's offering all 1,000+ words, in a very concise way to share the idea of what you've written about.
Content Marketing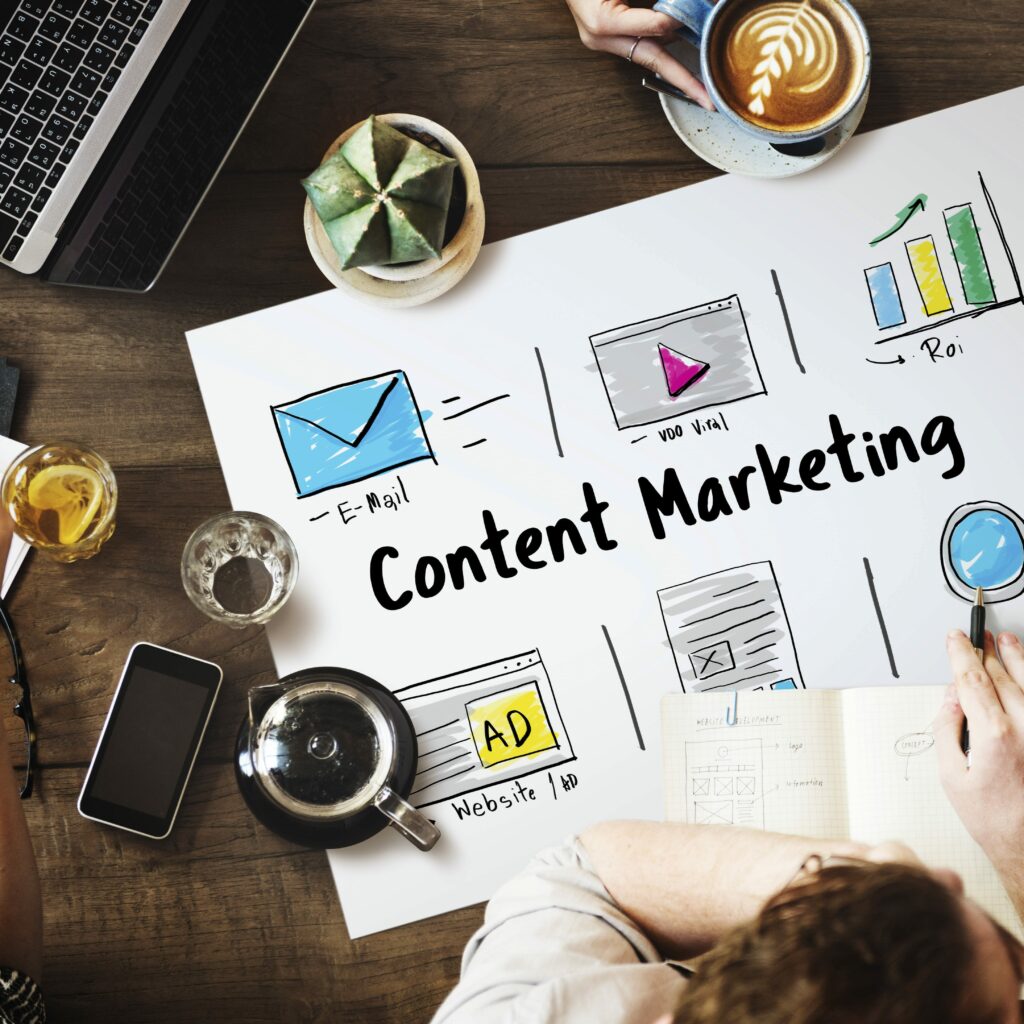 The best way to start creating a seamless presence is by creating quality content that resonates with your audience and customers. creating content using the right keywords allows for a parallel with user's search intent. Creating blog posts that harbor main keywords searched, grants for another way to achieve off-site optimization. Some viewers may make search queries and if you happen to land on any of the search engines results page, you're in luck!
What is SEO? Understanding How Search Engines Work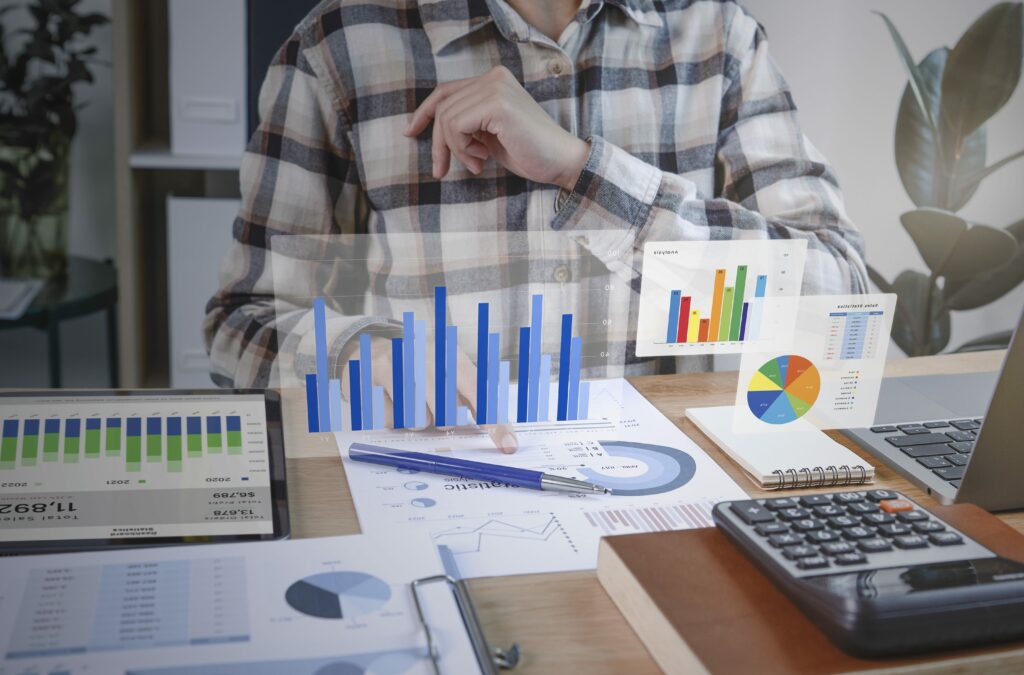 There are a lot of factors that go into search engines like Google, Bing, and Yahoo that use complex algorithms to scan, index, and rank websites. When a user enters a search word, phrase or question, the search engine's algorithm gathers relevant results from its index and displays them in order of high ranking and quality.
How to Determine Site Relevancy?
To determine a website's relevance, search engines evaluate on-page factors such as the page's content, structure, and keyword usage, as well as off-page factors such as the quality and quantity of external links pointing to the site. Search engines factor in click rates, bounce rates and uptime, which notes how user friendly and relevant the website contents are.
SEO practices need to updated regularly to maximize a website's content, structure and make sure they are aligned with the best updated practices. Search engines, such as google analytics, constantly update their algorithms to improve the quality of search results, prevent spam and manipulation, and deliver the most relevant and useful content to users.
Search Engine via Social Media
Optimizing for search on social media platforms is far different than through Google search. Have you ever seen how much influencers and other people of influence push for engagement? Likes, comments, shares and save allow for the opportunity of pushing content forward on to the explore or for you page. This allows the analytics or algorithm to change, granting similar searches on to your page.
Paid Search
Online advertisers who utilize paid search, sometimes referred to as pay-per-click (PPC) advertising, are charged every time a user hits one of their ads.When people search for particular keywords, advertisers bid on those words or phrases that are pertinent to their business, and when they do so, their adverts appear on search engine results pages (SERPs).
The amount of the advertiser's bid and the level of keyword competition affect the cost per click (CPC). Advertisers can target particular audiences based on variables like geography, device type, and demographics and can set a daily or monthly budget to manage their expenditure.
Google Ads (formerly known as AdWords), Bing Ads, and Yahoo Gemini are three common paid search systems. Paid search can be a very efficient approach to bring in targeted visitors, generate leads, or close purchases, but it needs to be managed and optimized carefully to yield a good return on investment (ROI).
SEO Tools
Website owners and online marketers can improve their sites for search engines with the aid of SEO tools, which are programs or web applications. Several popular SEO tools are:
Google Analytics monitors user behavior and website traffic.
Google Search Console – tracks the effectiveness of websites in Google search results
Ahrefs – examines rivals, keyword ranks, and backlinks
SEMrush carries out competitor research, keyword research, and ranking tracking.
Moz Pro offers site audits, keyword research, and SEO analytics.
WordPress plugin Yoast SEO enhances content for search engines.
Website crawling tool Screaming Frog checks for broken links and technical SEO concerns.
These tools can aid with a variety of tasks that can increase a website's exposure and ranking in search engine results pages, including keyword research, on-page optimization, content analysis, link building, and more.
Content Management System
A content management system is a system that allows its users to create, manage and modify their content on a website without the use of a coder or coding. One of the best CMS found today is WordPress. With many pros, it offers a range of SEO-friendly features, as well as plugins to assist website owners optimize their content for search engines.
SEO and WordPress
If you already have a WordPress site and you're hoping to make use of it, here are a few tips to keep in mind to maximize your search engine:
SEO-friendly Themes: WordPress offers themes designed for SEO including clean codes and responsive design
URL Optimization: Descriptive URLs, target keywords to simplify the process of search engines understanding your content
Optimize your titles and meta descriptions: Using descriptive and unique titles and meta descriptions for each page, including targeted keywords
SEO plugins: WordPress offers a range of SEO plugins, which provide advanced on-page optimization features
Headings and subheadings: Use H1-H3 tags to structure your content and make it easier for search engines to browse
Images: Use descriptive file names and alt tags for your images to help search engines understand your content
Internal links: Link to other relevant pages on your site to help search engines understand the structure of your site and the relationship between pages.
Search Engine Marketing
Search engine marketing (SEM) is a type of digital marketing that involves promoting a website by increasing its visibility in search engine results pages (SERPs) through paid advertising and search engine optimization (SEO) techniques.
SEM typically includes pay-per-click (PPC) advertising, where advertisers bid on specific keywords or phrases and pay each time a user clicks on their ad. Popular PPC platforms include Google Ads (formerly known as AdWords), Bing Ads, and Yahoo Gemini.
SEM also involves optimizing web pages for search engines using on-page and off-page techniques such as keyword research, content optimization, link building, and technical SEO. By improving the quality and relevance of web pages, they can appear higher in organic search results, which can drive traffic and leads to a website.
What is the Goal of SEM?
The goal of SEM is to increase the visibility and ranking of a website in search engine results, drive more traffic to a site, and ultimately generate more leads or sales. By combining both paid advertising and SEO techniques, SEM can provide a powerful way to reach a targeted audience and improve a website's overall online presence.
Blogging and SEO
If you're hoping to launch your own website, Ecommerce store or delve into the fundamentals of the internet, it is important that you begin incorporating SEO's in your plan. For those hoping to continue to blog, read our blog post, How to Write Blog Posts: Your #1 Guide to understand the importance of SEO and how to ensure that your blog shows up on the first page on search engines.
Was this article helpful?
Thank you for your feedback :)
---
GuruDesk
Join the GuruDesk community and be among the first ones to discover the hottest trends in web services! We are a team of web experts and we love sharing our knowledge and experience with our readers! We share tips and tricks on a wide range of topics, including web development, cloud services, and hosting. Whether you are a seasoned pro or just starting out, we promise you will find valuable information here. So go ahead, hit that "Subscribe" button and let the fun begin!